Infinite Stars - The Visual Novel
A downloadable visual novel for Windows, macOS, Linux, and Android

❤| NOW AVAILABLE ON STEAM | ❤
Infinite Stars is an interactive sci-fi story where you get to choose how your own adventure unfolds. It is inspired by stories like Dune, Star Trek, and The Expanse.


In the distant but still recognizable future humanity has overcome our differences. We are finally a united people. No longer divided by our nationalities, our religions, or our race, we call ourselves human.
But we weren't alone. The Discovery War was unprovoked and bloody. It took years of strategic diplomacy before humanity was allowed to join the Interstellar Concordat, and though there is an uneasy peace, not all our new allies seem to have our best interests at heart...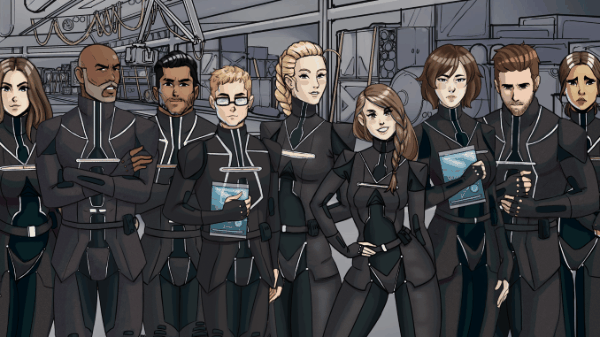 The game features an intriguing narrative filled with mystery, action, and romance told from two perspectives. From one perspective, the player is an observer that guides the other characters and their choices. From the second perspective, the player takes control of their own character; a powerful Mah'Abeu shrouded in secrecy.
Who will you be? A confident flirt with an optimistic outlook on life? A timid loner with a flair for diplomacy? A bisexual envoy who never lies and likes to be in control? Or a shy yet loyal individual who always has a snarky comment at the ready?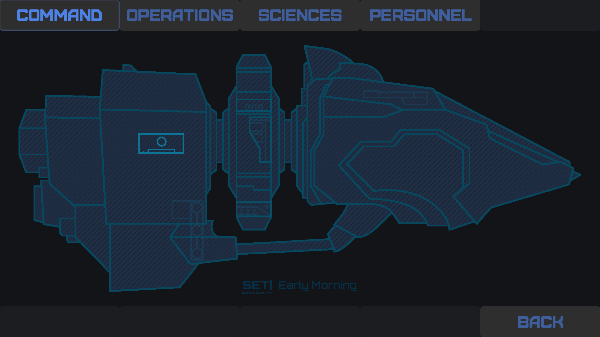 Follow the delightful, ever-expanding story over several hours as it deals with issues and truths on what it means to be human.
Shape your avatar and his | her | their history, personality, and relationships through countless decisions and interactions.
Navigate the UIC Tabitha and the various departments on board to interact with crew members as the dynamic story unfolds.
Build relationships with the Crew (and others) as you shape your persona. Will you befriend them? Seduce them? Annoy them? Or keep them at a professional distance?
Experience core episodes filled with mystery, action, and suspense. Or take a break and enjoy some vibrant "slice of life" interactions exploring romance, drama, and self-discovery while you wait for the next episode. (More slice of life coming soon.)
Write your own story to share, or download one written by a friend or total stranger on the internet to experience infinite stories amongst the stars. (Coming soon.)

James is a solo dev from South Africa, working on Infinite Stars. He is encouraged by his patrons, his loving partner, and their cuddly Italian Greyhound to work tirelessly on making Infinite Stars the best game it can be.
Being from South Africa and having first-hand experience on the benefits of diversity and inclusion, James searched the globe far and wide to enlisted the help of those more talented than himself to assemble a truly multicultural team of superhumans.
First, he found Zaph, a roguishly handsome art wizard from Mexico who does magic with a ukulele. He also makes a pretty good character artist when he has the time.
Next to join was Caba, a wunderkind from the States. He describes himself as an architecture student, worldbuilder, and part-time lizard enthusiast. When he isn't studying or drawing lizards, he draws backgrounds for Infinite Stars.
The newest addition to the project is Saeed from Iran. Legend has it that he listens to the silent songs sung by the stars and transcribes their melodies to weave the most beautiful music for the project.

Infinite Stars is an ongoing project. The first public version was released on Itch on 1 September 2020. We've come a long way since then, and we're constantly adding to the game.
We're working on bringing you the rest of the content for Episode 3. (Episode 3 is 3-4 times the length of the previous episodes.) You can look forward to weekly content updates until we reach this milestone.
With the completion of Episode 3, we'll add the ability for players to load custom scripts into the game, either as mods or "holodeck simulations," to explore the stories written by our creative players and fans. We built a prototype earlier this year to test the capabilities, and we're excited to share it with all of you.
We're also adding regular, slice-of-life content to the game to allow our players to shape and refine their character continually.
We have tons more planned, so hit the follow button on Itch to see what is coming next.

Twitter | Patreon | Discord | Mailing List (For occasional, exclusive free goodies)


| | |
| --- | --- |
| Updated | 1 day ago |
| Status | In development |
| Platforms | Windows, macOS, Linux, Android |
| Rating | |
| Author | InfiniteStars |
| Genre | Visual Novel, Interactive Fiction |
| Made with | Ren'Py |
| Tags | Character Customization, Dating Sim, Female Protagonist, Lesbian, LGBT, Mystery, Otome, Romance, Sci-fi |
| Asset license | Creative Commons Attribution_NonCommercial_ShareAlike v4.0 International |
| Average session | About an hour |
| Languages | English |
| Inputs | Keyboard, Mouse, Touchscreen, Smartphone |
| Accessibility | Subtitles, One button |
| Links | Patreon, Steam, Twitter, Discord, Mailing List |
Download
Click download now to get access to the following files:
InfiniteStars-1.0322.1005-win.zip
253 MB
InfiniteStars-1.0322.1005-mac.zip
236 MB
InfiniteStars-1.0322.1005-linux.tar.bz2
239 MB
Infinite Stars - Android 1.0321.1022 (Patreon Commander+ Tier)