Infinite Stars - The Visual Novel
It's Friday! (Well, close enough.) That means another Dev Update! And it's a big one!
I've released the first 10 minutes of gameplay from Episode 3 for my patrons. The plan is to chip away at it until the full release is ready for September.
As you know, there were some unpreventable delays that broke my heart, but I'm crunching to make up for them. I'm stubborn enough to still believe in the original release date. It might just be doable.
But you probably don't want to hear about my personal life, so let's get to it.
First up, we have a new main menu to celebrate Infinite Stars' first birthday. No longer will we share the same main menu with the swarms of amateurish visual novels using the default Ren'Py one. (I jest, if you develop Ren'Py games and are still using the default one, there's no shame in it. I mean... It took me almost a year to implement mine.)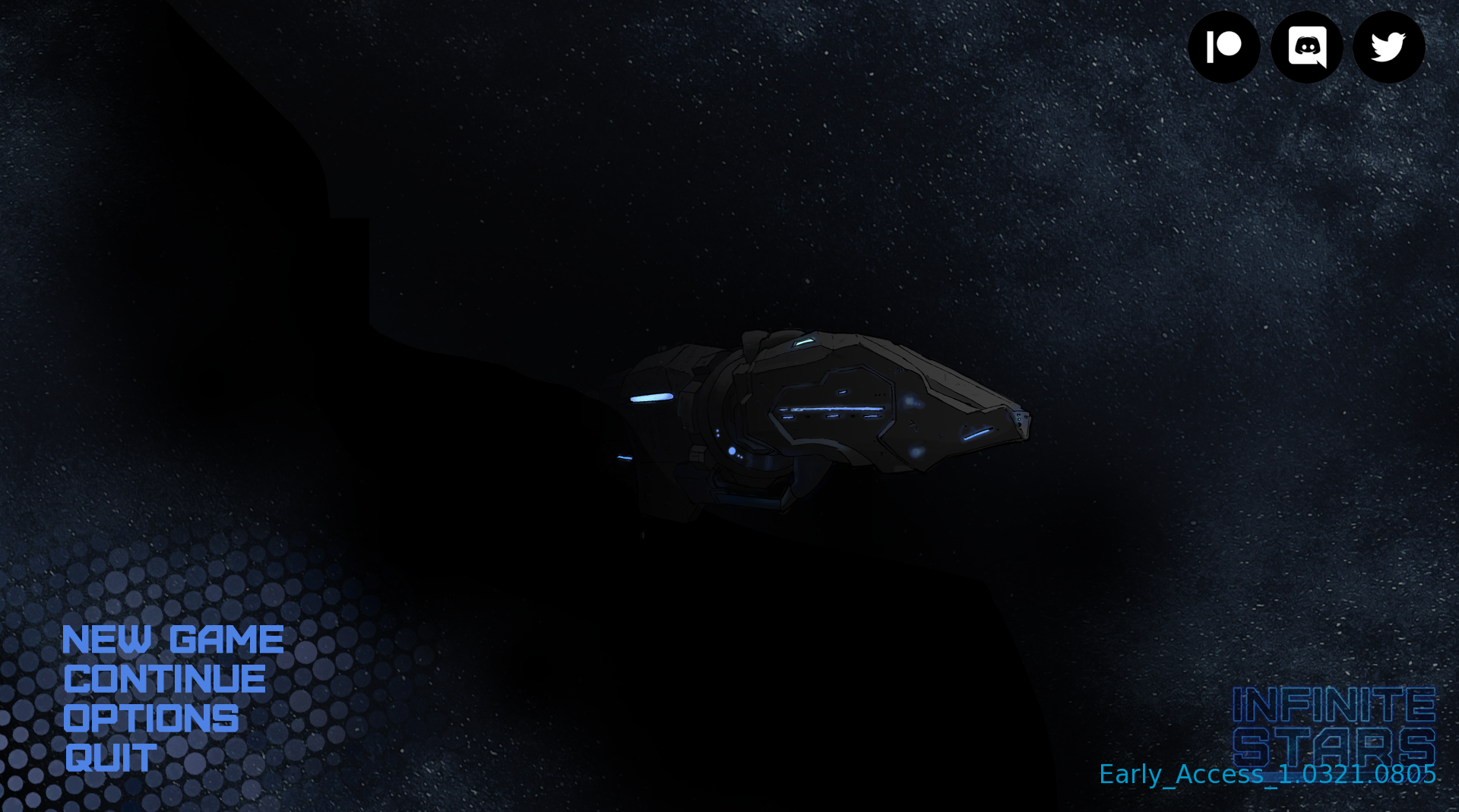 Look at that sexy picture, then look at me celebrating small victories. It should bring a smile to your face.
We also have new text boxes. I think I'm finally happy with the look.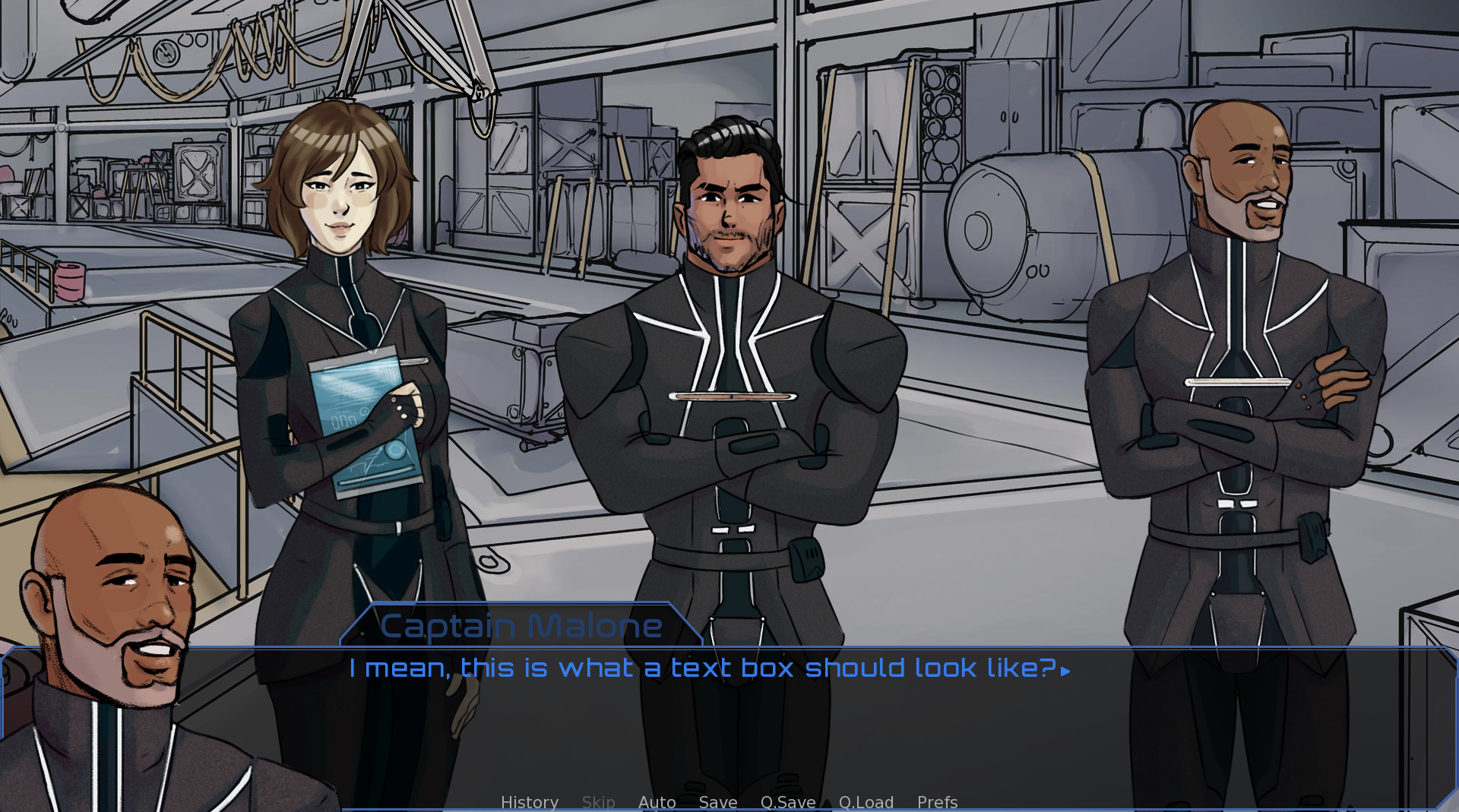 Did you see that? It actually looks like a text box!
We have new characters, new backgrounds (you should check out the design process for our shuttle bay if you haven't already), new music tracks, and currently around 30K words of script that still needs to be coded.
If you are a Patron, and you absolutely can't wait to try the first piece of the 3rd episode, you can grab a copy here. Just keep in mind it's still a work in progress.
I'll also be releasing a new sprite pack for Khalil on itch. I'll release a few more free packs as the month progresses to build some hype and visibility. I've reached out to our friends from NALE and Andromeda Six to help build some hype once the full episode releases, and I'm trusting for favorable answers. You should check out their games if you haven't. Seriously.
Also, if you have some kind of following and would like to help promote the launch, please reach out!
Now for the small details in the changelog:
Version .08.05 (Available on Patreon)
So many changes... a lot of them aren't documented :(
Implemented new main menu & social links
Finalized the intro and first 4 scenes covering day 0 for Episode 3
Finalized new text boxes
Finalized new name boxes
Finetuned player pronouns and their function
Added new characters to game:
//still need to add the other 4 new characters
Added new BG's:
Shuttle Bay & Storage
Engineering, Controls and Window view
Aeroponic Growth Chambers, Critter Tanks and Aeroponic Labs
Added new music files:
Mah'Abeu theme
Intro theme for Episode 3
//still need to add some tracks to the current release
Created & Added new SFX:
Shuttle/Drop-Drone Docking
//still need to create SFX for clothes unzip and shower water
Changed MC text color depending on pronoun choices.
//still need to add matching click-to-continue colored icons
//still need to decide on exact colors and add text color tags for Friendship/Flirting/Confrontational choices
//still need to add the option to skip prologue (Epi 1 & 2)
//still need to tinker and implement relationship values
Get Infinite Stars - The Visual Novel