Infinite Stars - The Visual Novel
!! Episode 3 is launching on 1 September 2021 !!
It's been almost a year since the first public release of Infinite Stars, and the more I work on the project, the more I get excited about its future.
It feels like I am finally at a place where Infinite Stars is getting ready to spread its wings. There is so much untapped potential, and I'd be lying if I said I wasn't a little scared that I might mess it all up.
When I started this project, it became the first serious, long-form story I ever wrote. I often wallow in self-doubt about my writing skills, and I know enough to know that I don't know enough. But I'm improving, and thankfully, the Visual Novel community is very kind and forgiving.
I wanted to share some things about the future of Infinite Stars, where I see it going in the next few years. These are all dreams, which aren't entirely of the "pipe" variety.
With the Navigation concept working, it opens the door to allow players to navigate the galaxy, much like in Mass Effect 1. That alone adds worlds of possibilities. Literally.
Add to that the modding functionality we prototyped earlier this year, where players and modders can write their own story scripts to integrate with the larger game universe; we'll finally be doing justice to the "Infinite" in Infinite Stars.
I think I mentioned this before, but with the Story Controller working, and after Episode 3 concludes, I'll be able to add shorter, fluff events (probably monthly) to enhance gameplay. This will also allow players to be drawn into an optional "slice of life" experience between larger episodes.
And lastly, with the new tags that keep track of choices, I can start to implement a "Personality Card" where players can see how their choices shape and change their character. I'm excited to see if most players will make choices that align with their actual personality or if they will dare to live as someone else.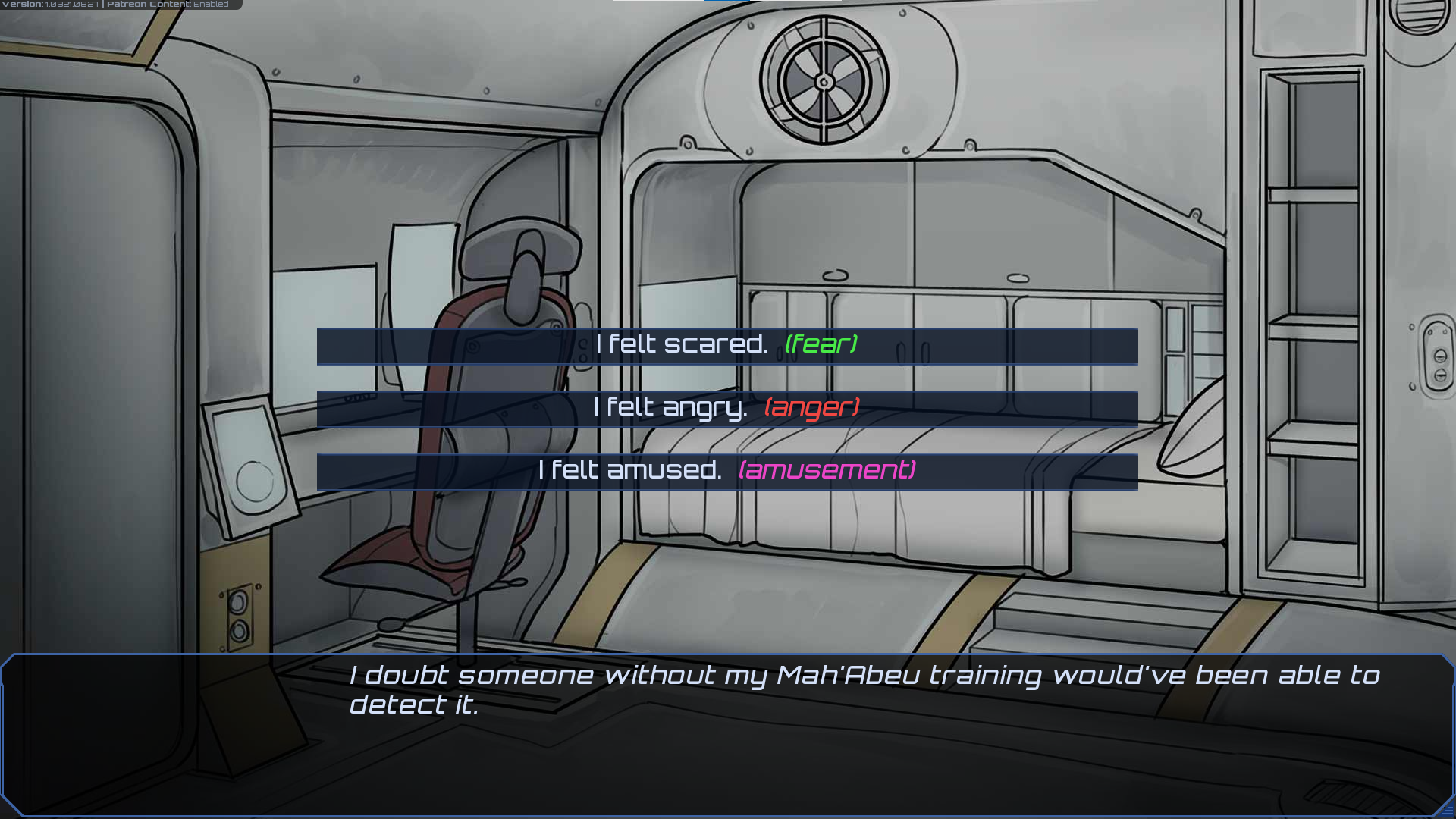 As for the progress on the project this week:
Added the relationship controller to keep track of your relationships with NPCs.
Fixed an exception error that was making it impossible to reload the script mid-game during testing. (For the technically inclined, and for those who will laugh at me with their superior coding experience, I was importing the random function inside one of my methods.)
Implemented more logic to control which room can be accessed when.
Implemented a player stat controller to keep track of MC personality.
Added color tags and hints to most choices.
Added Lebeny's music track with crossover experimentation when making certain choices.
Get Infinite Stars - The Visual Novel